Pan-African Studies Community Education Program

Make sure you have an active student account. Click here for instructions.
About the Program, Spring 2018
The Pan-African Studies Community Education Program (PASCEP) is a low-cost, non-credit continuing education service of the Office of Community Relations.
PASCEP has remained a pillar in the community for over 40 years and is the most unique community education program in Philadelphia. With over 25 volunteer faculty members, PASCEP offers a multitude of diverse courses, including Introduction to Computers, Financial Education, American Sign Language, Workforce Development, Rites of Passage, African Drumming, Etymology, Entrepreneurship, Sewing, Reentry Education, Real Estate, Hip Hop, Spanish, and much more.
The History of PASCEP
PASCEP was founded in 1975 by the late Annie D. Hyman, a Temple University graduate and North Philadelphia community activist who sought to bring the University to the community. Prior to coming to Temple, the Community Education Program was held in community schools, churches, and centers. University faculty volunteered their time to teach classes. Ms. Hyman later obtained the support of Dr. Odeyo Ayaga, who was then Chairman of the Pan-African Studies Department, to seek Temple University's sponsorship of the Community Education Program.
In the Spring of 1979, the University adopted the Program and it came to the campus under the auspices of the Pan-African Studies Department of the College of Arts and Sciences of Temple University. Faculty of the Pan-African Studies Department and other faculty continued to volunteer time to teach courses for PASCEP: Dr. Rita Smith, Dr. Audrey Pitman, Dr. Tran Van Dinh, Professor Sonia Sanchez, Professor Jacqueline Mungai, Dr.Wilbert Roget, Dr. C. T. Keto, Dr. Barbara Hampton, and Dr. Thaddeus Mathis, among others.
Today the vast majority of PASCEP's courses are taught by volunteers from the community whose purpose is to give back to others what was given to them in knowledge, skill, inspiration, and example. Community self-help is no better exemplified than in the PASCEP philosophy and practice.
PASCEP Community Thursdays Workshops
Community Thursdays

5:00 pm - 8:00 pm
PASCEP0903 - PASCEP Community Thursdays Workshops
February 8 & 15 - Black History Month
February 22 & March 1 - Mental Health First Aid Training Adults
March 15 & March 22 - Mental Health First Aid Training Youth
March 1 & March 8 - Credit Education (Blended class/webinar)
March 29 - Transition Postsecondary and Training
April 5 - Workforce Development
April 12 - Returning Citizen Resources
PASCEP Spring 2018 (10 Weeks)
Classes start: Monday, January 29
Classes end: Thursday, April 12
Early Online Viewing of Courses
Starting Saturday, December 1
Online Registration
Monday, December 1, 2017 through Friday, March 9, 2018
Walk-In Registration
Tuesday, Wednesday, Thursdays
August 1 - October 12
Hours: 1:00 PM to 7:00 PM
Late Registration (Walk-In)
Tuesday, Wednesday, Thursday
January 9, 2018 - March 1, 2018
Hours: 1:00 PM - 6:30 PM
Drop/Add (Walk-In)
Monday - Thursday
Hours: 3:00 PM to 7:00pm
Requests must be requested in writing prior to the start date of each class.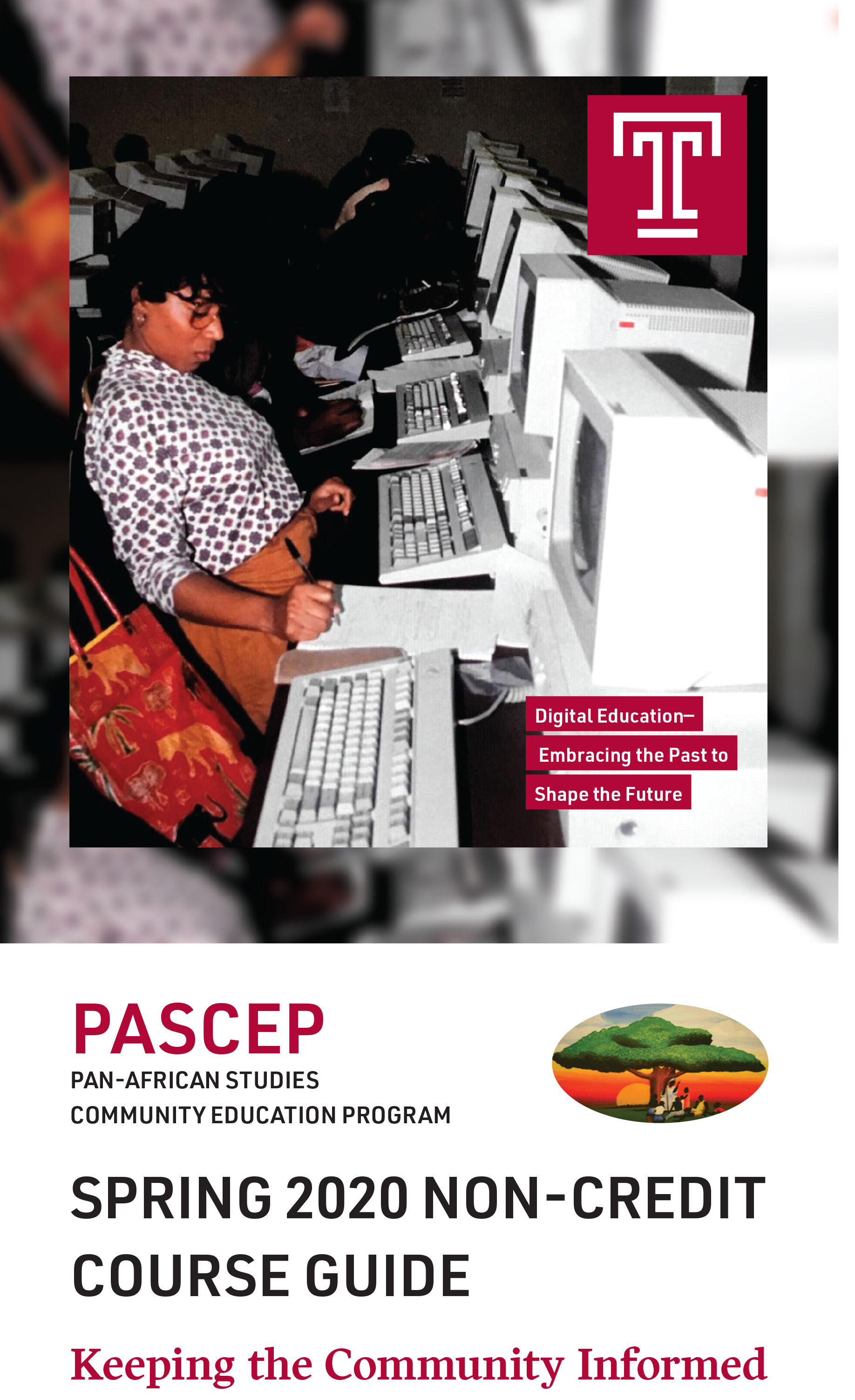 You will need Adobe Acrobat, or Acrobat Reader to access this file.
Contact Information
Email Address:
pascep@temple.edu
Telephone Number:
(215) 204-1993
Program Office Address:

Entertainment and Community Education Center
1509 Cecil B. Moore
2nd Floor
Philadelphia, PA 19121
A Tradition of Excellence Since 1975!
Courses
The list of available courses is below. You can sort the list by the Course Number, Course Name, or Campus. To sort the list, simply click on the table heading (i.e. "Course Number", "Course Name", "Campus").