MUSPREP0024
-
DANCE ONLINE: Music and Movement (Kindergarten - 7 years)
2894907
Music Preparatory Division
Course Description
Music and Movement Online
Ages 5-7
Through creative movement exploration, this course emphasizes dance movement concepts as well as basic music principles. Rhythmic patterns/structures and fundamental dance movement are explored using various movement tools such as scarves, balloons, and other props. Dancers also explore their own movement and learn to create short collaborative movement sequences with their dance peers.
Suggested requirements: several scarves, balloons, paper plates or bean bags.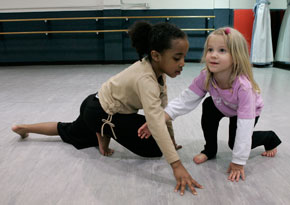 Notes
All registrations, including minors, must be completed using the student's name and date of birth. Parents/guardians should be listed as Emergency Contact.
---
Please read or download our Class Participation Policies.
---
Any questions or concerns regarding this class should be directed to Temple Music Preparatory:
215.204.1512
musicprep@temple.edu
Enroll Now - Select a section to enroll in