FMA0002
-
FILM: Summer Digital Filmmaking Intensive
18102442
Music Preparatory Division
Course Description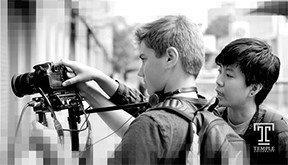 The School of Theater, Film and Media Arts is proud to offer a two-week Summer Digital Filmmaking Intensive for high school students of all levels. This workshop centers on the creative and technical fundamentals of screenwriting, cinematography, on-screen performance and directing, editing and sound for digital short storytelling. With the mentorship of the instructor and undergraduate teaching assistants, each student crew rotates positions and manages the filmmaking process from inception through completion.
By the end of this dynamic 10-day program, students will have completed their own film that includes dramatic arc, performance technique, cinematic framing and composition, shot sequencing, continuity editing and double-system sound design. Title design and end credits will be created for complete finessing of each project.
We conclude the intensive with an on-campus final screening event for friends and family. Additionally, all films are submitted for consideration to screen in a special program at Temple University's annual Derek Freese Youth Media Festival.
Course Outline
Who: High School Aged Students at all levels
When: Monday, July 8 – Friday, July 19, 2019 (Monday - Friday, 9 am – 5pm)
Where: Temple University - Main Campus, Annenberg Hall, 2020 N. 13th St Philadelphia, PA 19122
Tuition: $1250
Includes access to all equipment camera, lighting and sound equipment, Mac-based editing systems and software during the 2-week program.
To Register: Registration opens on January 15, 2019. Space is limited! Submit an application form and complete payment with registration. Enrollment is complete when payment is made in full.
Enroll Now - Select a section to enroll in