MUSPREP0007
-
DANCE: Creative Movement (3-4 Years)
2806151
Music Preparatory Division
Course Description
All Temple Music Prep dance classes are held at the Friends Select School
(Corner of 17th Street and Benjamin Franklin Parkway).
Enter through the door on 16th Street - through the FSS parking lot. Go down the stairs and the dance rehearsal room is at the end of the hall to your right.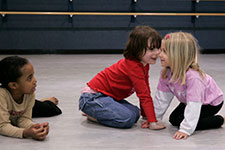 Course Outline
CREATIVE MOVEMENT (Ages 3 and 4, for children only) introduces children to the basic principles of dance based on the techniques of Rudolph Laban and guides them through a series of movement-exploring games, songs and improvisations that enhance and develop each child's movement ability. These experiences improve the child's rhythm, flexibility and endurance and create a foundation for formal dance training. Attire: loose-fitting clothes, socks.
Notes
All registrations, including minors, must be completed using the student's name and date of birth. Parents/guardians should be listed as Emergency Contact.
---
Please read or download our Class Participation Policies.
---
Any questions or concerns regarding this class should be directed to Temple Music Preparatory:
215.204.1512
musicprep@temple.edu
Enroll Now - Select a section to enroll in