FMA0001
-
FILM: Reel Girls High School Film Workshop
17723592
Music Preparatory Division
Course Description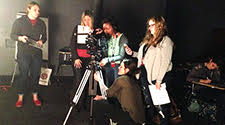 Reel Girls: High School Film Workshop is a hands-on workshop for high school girls interested in film, digital media, photography and art. This day-long workshop will expose participants to all aspects of film production. Using FMA's professional level equipment, participants will direct, act, shoot and edit a short film.
Women's voices are sadly underrepresented in Hollywood films. Through this workshop, we are interested in giving girls a chance to acquire skills that can help them tell their own stories. Won't you join us?
Course Outline
When: Saturday, April 6, 2019, 9:00 am-4:00 pm
Where: Annenberg Hall, Temple University, 2020 N. 13th Street, Philadelphia, PA 19122
No equipment needed! Just bring your ideas and enthusiasm!
Limited to 20 participants
2019 Registration is due by March 29